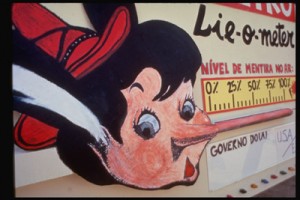 In 2003, my co-founder and I were a bit ahead of the curve as we set out on a green messaging mission : providing media and marketing services to the natural products industry, and socially responsible organizations and businesses.  We had great clients, produced creative content in many mediums, and I still enjoy working and playing within the community of people who work to do good in the world.  We had a good run.  In 2009 we parted ways, and apparently it was prescient of exactly what "consumers" did too.
According to the results of the recent online Harris Poll of 2,352 U.S. adults, Americans overall are now less likely than they were in the summer of 2009 to espouse certain "green" attitudes and engage in various environmentally-friendly activities.
What is going on here?  Let's face it, one can understand not wanting to pay a premium for discretionary products in the middle of this great recession…but to abandon simple actions…
Making an effort to use less water
Purchasing locally grown produce
Purchasing locally manufactured products
Purchasing organic products
Composting food and organic waste
REALLY?!…is my first reaction, but looking closer at the data, wonder, what IS happening?  Was it just a green bubble we were inhabiting?  Were we only talking to each other?   Well no, examples abound of sustainable businesses that are thriving in this economic environment.  In fact, more people put themselves in the category of environmentalist, green or conservationist…again, REALLY!
At the same time, according to the Pew Research Center the percentage of Americans who believe that science has produced solid evidence for global warming went from 79% in 2006 to 59% in 2010.  More Americans also favor spending more on subway, rail and bus systems (63%) and providing tax incentives for buying hybrid or electric cars, trucks and SUVs (60%).
Seems the messages are a bit confused, the actions a bit skewed and the future unclear.  And that, I suppose, has not changed much since the early 2000's days of green…and perhaps the reason I'm not feeling so much green, as blue.
Image: Pinocchio Lie-O-Meter, H. John Maier Jr./Time Life Pictures