If you are a first world person, you were most likely born in a hospital with follow up medical care.
If you were born in Afghanistan, perhaps not. The chart to the right shows infant mortality rates around the world are still out of line with those in first world countries.  Part of the problem is lack of education for new parents about the basic care of a newborn.
From this premise, BMB's creative agency in New York birthed The Information Blanket. The idea wraps a baby in a blanket, informing parents of the basics of frequency of feedings, timing of immunizations, symptoms of illness, etc.  Instead of compromised health, even infant death, it could aid in a baby's healthy development.
BMB's thoughts:  Every baby needs a blanket.  Every parent needs education and training about how to protect and raise a newborn.  The information blanket does both.
With a $25 donation, the green cotton blanket seen above, will be sent to Uganda (other countries will be added soon).  For $40 a customer receives either a blue or pink blanket, and an Information Blanket will be sent to a child in Uganda.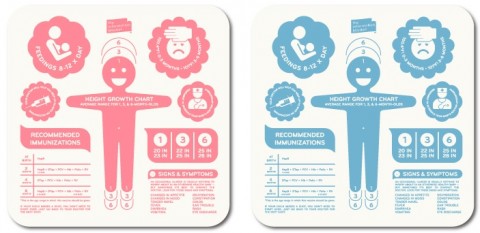 We think it's a great idea, and hope that it wraps many young ones in warmth, as it gives their parents the information they need for their baby to outgrow it.