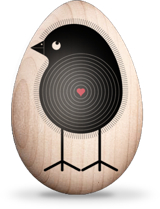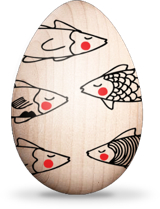 Creative agency TBWA/LONDON has teamed with the British Red Cross to continue relief efforts in Japan.  This Easter season they launch Eastern Eggs.  By engaging top illustrators and designers to adorn wooden eggs, we are reminded of the hopeful message of the egg, and the unique designs bring thoughts of Japan to the fore.
The collaboration includes the use of the Eggbot, an open-source art robot that can draw on spherical or egg-shaped objects.  Check out the process in the video.
Eastern Eggs from TBWA\London on Vimeo.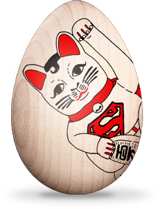 Eastern Eggs are available for sale for the suggested donation of 10 pounds.  Visitors to the site can select an artist and submit their donation. They'll then receive an email confirmation to let them know when their eggs will be printed, and, possibly, an invite to watch the process via webcam.  So far the participating designers are Danke Schoen, Maneki Neko, Paul Pateman, Janm Kallwejt, Damien Weighill, Kristyna Litten, Matt Lyon, Nick Purser, Shin Tanaka, Tony Riff, Yehrin Tong and Ewen Stenhouse, with more to be added in the coming days.  The proceeds from Eastern Egg, will be donated to the Red Cross – Japan Tsunami Appeal.