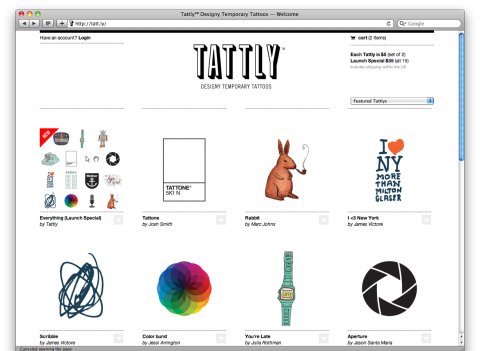 Tina Roth Eisenberg is Swissmiss.  We find her blog interesting enough to link to on mixingreality, and write about some of her design ideas.  She founded and runs Creative Mornings, a monthly breakfast lecture series for creative types. The events are free of charge, and include a 20 minute talk, plus coffee.  Join in New York, Zurich, Los Angeles, San Francisco, and soon Chicago and London.  Besides that, Eisenberg runs a design studio, and is a serial entrepreneur.  On Tuesday, she launched her latest brainwave : Tattly.
We love the idea of temporary tattoos.  After all, what, one image can encompass a lifetime commitment?  But alas, until now, we have been relegated to Disney characters and bad on the eyes tats for tots.  Swissmiss's thoughts exactly.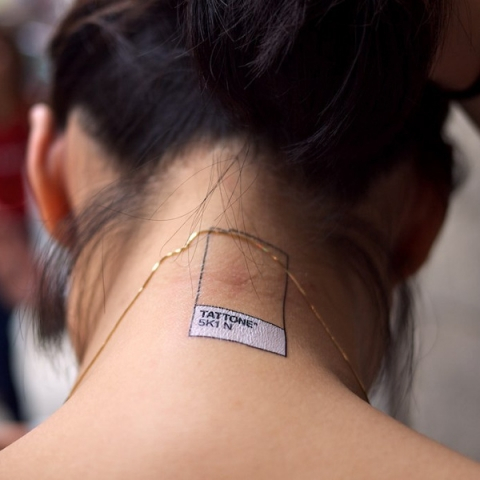 So Eisenberg:…looked through my rolodex and reached out to fellow designers I admire to see what they thought of the idea. The response was overwhelmingly positive. Within days I received my first tattoo submissions. And now, a good two months later, we have a site, a team and an impressive fulfillment-centerlike-set-up in our studio. Team Tattly is ready to ship and rock the world of temporary tattoos.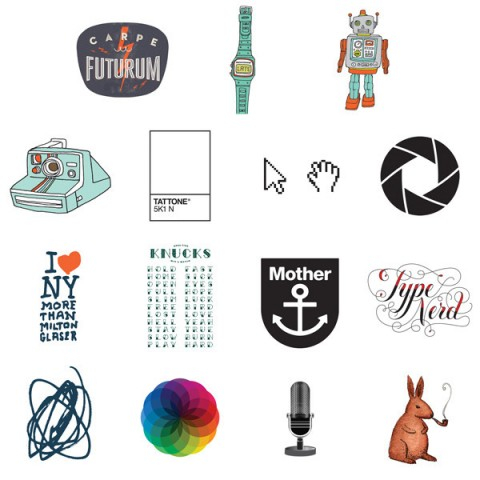 And why wouldn't she be?  She's got a great list of contributors so far.
Jessi Arrington: Color Burst
Jessica Hische: Type Nerd
Marc Johns: Rabbit
Julia Rothman: You're Late, Robot, Polaroid Instant Camera
Frank Chimero: Knucks
James Victore: Scribble, I <3 NYC
Jason Santa Maria: Aperture
Chris Glass: Mother
Kelli Anderson: Carpe Futurum
Josh Smith: Cursors, Tattone
Jennifer Ward: Speak Up
For the first two weeks, the site if offering the entire set of 15 designs for a special rate of $35. So get you some tattly, and don't worry, these designs are temporary.