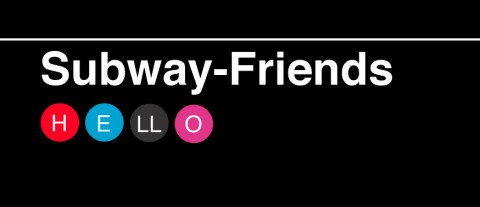 Subway Friends, a brilliant concept about connection, is the brain child of designer Jerri Chou, whose mission is to change the world through creativity and business. Her organization, All Day Buffet incubates, advises, and invests into for-profit/for-good companies.
Subway Friends in her words :  This is a little project I started because I love people. What I hate is seeing people wait around on mass transit, staring down tunnels, avoiding eye contact for 30 minute rides, wishing their time away, to get from point A to B and not reveling in the journey.
In addition, while New York City is one of the most diverse places in America, we rarely leave our bubbles and interact with people very different from us. Yet most of us take mass transit daily, which offers a total mixing pot of people, cultures, stories, backgrounds and journeys.
Subway friends is a personal project to connect with the amazing variety of people in New York and to make mass transit more human, social and definitely more interesting.
How it works:
I will meet at least one new person each day on public transit – whoever's sitting next to me.
I'll then hand them a card, inviting each person to a party at the end of the month.
Everyone at the party will be completely random, just like an average subway car; except that they have all become my Subway Friends
It's an experiment in social objects, breaking down barriers, and getting a better first-hand understanding of the humanity I hear so much about in the papers.
Who knows what's to come, but I hope I run into you soon!
Brainpicker's twitter feed served me this one.  Do let us know if you run into Jerri and make a new friend.