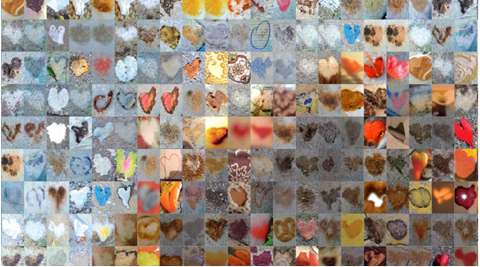 Eric Telchin makes photo collages of randomly occurring hearts he takes with his iPhone.  A very cool way to say I love you. And, says the artist, they spread love long after they're first seen.
"The real impact of a Boy Sees Hearts print is not when the viewer first sees it. Rather, it's several days later when they see a heart in a garbage can or a potato chip. When a person who's having a bad day sees a heart on the street or in a grilled cheese sandwich, it transforms their day. I still get excited every time I see a heart".
The siting of his first heart in a Ben & Jerry's ice cream puddle is charming, and proves inspiration is literally everywhere.