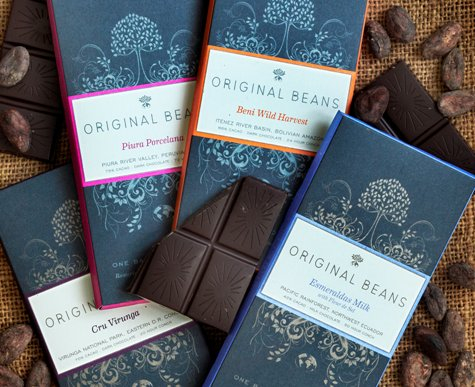 In 2003 when the company I co-founded set out to work with natural products, the market was wide open to greenwashing.  Less conscious green products that should never have called themselves sustainable were popping up all over. In 2011, a company that calls itself eco, green, sustainable or enviromentally friendly better understand transparency, triple bottom line and beyond eco, or be outed fairly quickly…especially if they are making chocolate.
Original Beans has done their homework, and actually walks an elevated talk. Of course they utilize organic, fairly and directly traded beans. There are no lecithins, emulsifiers or glutens in their ingredient list. They plant a tree for every bar purchased, which can be tracked on their site.  Every part of their packaging can be composted, including the "foil" that wraps the chocolate bar.  They cultivate and support small farmers to work specifically with flavor profiles…ah, therein lies the real question.
What do these chocolates taste like?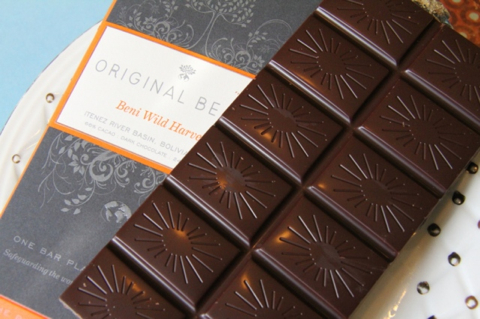 So we decided to conduct a tasting to find the real answer a conservation company has to ask itself after all that due diligence  :  Is it any good?
We assembled a group of hard core foodies.  Here in Sonoma County that is not hard to do.  Many of our crew are serious wine tasters and chocoholics.  All in all, there were six different tasters, and here are the results, which were surprisingly similar among the different palates.
Four bars are offered by Original Beans :
Cru Virunga, the first ever cacao from Virunga National Park, Eastern D.R. Congo, 70% cacao, conched for 20 hours.
Beni Wild Harvest, wild cacao from Itenez River Basin, Bolivian Amazon, 66% cacao, conched for 24 hours.
Piura Porcelana, white cacao from the Peruvian Andes, 75% cacao, dark chocolate conched for 72 hours.
Esmeraldas Milk with Fleur de Sel, an authentic arriba cacao from Pacific Rainforests of Northwest Ecuador, 42% cacao, milk chocolate, and conched for 50 hours.
See a description for conching here.
Cru Virunga was the hands down favorite dark chocolate which our team described as the star of the show.  Descriptors included: light florals, merlot (the wine), acidic, dusty, smoky, perfect mouth feel, grape, raisin, cherry, melt in your mouth hearty, chocolate experience.
Esmeraldas Milk is the only milk chocolate offering and we can see why…it would be hard to top.  Our critics said : light for a milk, but fulfilling, refreshing, caramel, burnt butter, toffee, coffee, salt counters the perfect sweetness, has the most personality of the bars, exceptional milk chocolate.
Piura Porcelana is nicely bitter, nourishing and opens in the mouth, sensual, milky, smoky, smooth cigar finish.
Ben Wild Harvest was the least fatty, emollient of the group, light, crisp and refreshing, not bitter, didn't take over, more savory and subtle than the others.
There you have it…our foodies' results.  Subject, of course to your opinion.  Let us know if you try Original Beans.  As Phillip Kauffmann, the co-founder says :
We think that the choice that people make in their consumption habits is more and more evident to them, and everybody else. We think it's really about choices.
We agree, and since this is Easter, traditionally a day to share goodies, we suggest that Original Beans is a smart, considered and delicious entry to not only the chocolate category, but the kinds of businesses we want to choose and support.
Please read more about the work they are doing in the world of small farms, collectives and sustainability on their site, Original Beans.