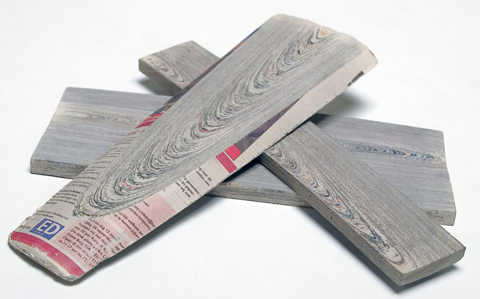 Newspaper is probably one of the most ubiquitous items found in the waste stream.  Everyday, piles of it are added to landfill around the world.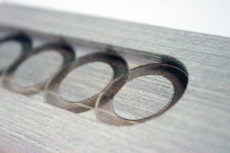 While still a student at Design Academy Eindhoven, Mieke Meijer devised a solution to use this surplus of trash as a renewed material.
After going through its transformation, Newspaper Wood takes on the characteristics of the real thing.  When cut, layers of paper appear as wood grain or the rings of a tree, and resemble the look and feel of wood, while the material itself is imbued with a unique quality.  The up-cycled Newspaper Wood can be cut, milled and sanded, taking on a new life, and adding an exceptional renewable alternative to materials that replace virgin wood.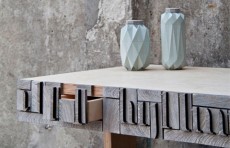 Design firm Vij5 launched the first prototypes of their unique furniture and interior design products utilizing Newspaper Wood at Ventura Lambrate during Milan Design Week 2011.  A team of young Dutch designers including :  rENs, Breg Hanssen, Greetje van Tiem, Ontwerpduo, Floris Hovers, Christian Kocx & Tessa Kuyvenhoven were invited to show off their prowess with the material.  The gorgeous results speak for themselves.  See more via.