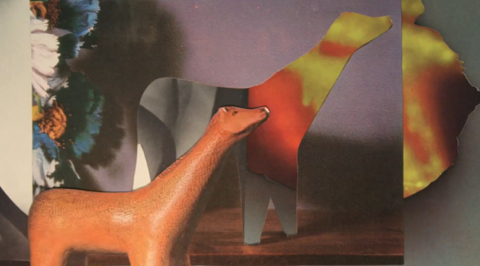 As I was looking over my many streams of conscious feed this morning, I spied Design Sponge on Twitter.  Grace Bonney does a great job of scouring art and design from the web.  A little gem of an interview with Lupe Núñez-Fernández, written for Design Sponge by Rachael Maddux is no exception as Lupe Núñez-Fernández wastes no time defining art, she just makes it.
With a PhD in modern art history, she writes, researches and curates contemporary art for a variety of publications and galleries. In addition, she has a music career, which she began in London more than ten years ago performing in the duo Pipas. Her most recent musical collaboration continues with the experimental bossa-nova duo Amor de Dias,  with The Clientele's Alasdair MacLean.
Their latest video features animation by Núñez-Fernández's fellow artist, Xana Kudrjavcev-DeMilner, with whom she  attended art school and collaborated on video-art installations. Kudrjavcev-DeMilner collected found materials for the video, which create a kind of visual stream-of-consciousness that plays on the song's "shimmering instrumentation and Núñez-Fernández's shy, dreamy vocals," as Maddox describes it.