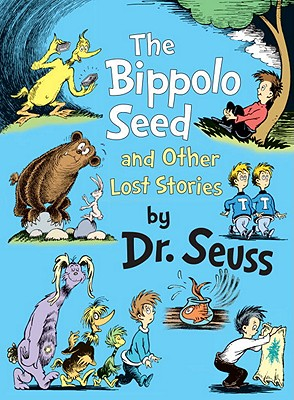 Seems to be the week for announcements of classic children's authors and their new books.  In what his publisher, Random House refers to as the literary equivalent of buried treasure, Theodor Seuss Geisel, better known as Dr. Seuss, has a forthcoming collection of lost stories coming to print on September 27, 2011.  Geisel died in 1991 at age 87.
Ten years ago, Geisel's art director came across the stories on eBay.  She bought the collection from dentist, Dr. Charles Cohen in Springfield, Massachusetts, an avid Dr. Seuss collector and writer.  Cohen is author of 2003's The Seuss, the Whole Seuss and Nothing But the Seuss: A Visual Biography of Theodor Seuss Geisel. He had long wanted to compile the lost stories he had collected in magazines.
Ten years later, The Bippolo Seed is coming to life.  Written during perhaps the height of Dr. Seuss's prolific creative period, the stories were originally published in magazines that were seen by a tiny audience compared with his book buyers.  Geisel won a Pulitzer for his contributions to American education.  He wrote The Cat in the Hat on a dare from his publisher…could he write a story using just 225 words, the prerequisite first grade vocabulary list…oh, yes, The Cat In The Hat is that.
Random House vice-president and publisher Kate Klimo claims of The Bippolo Seed : The stories are as good as anything in the already-published canon and readers of all ages are in for a treat.
We can't wait.