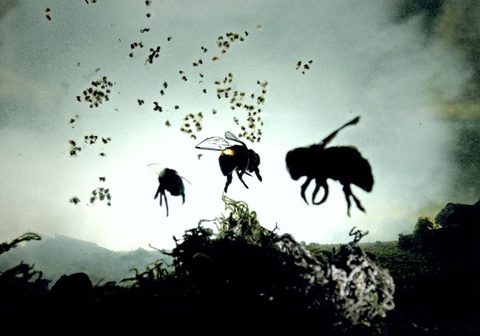 Vanishing of the Bees is a film narrated by Oscar-nominated actor, Ellen Page.  The story follows commercial beekeepers David Hackenberg and Dave Mendes as they strive to keep their bees healthy and fulfill pollination contracts across the U.S.  The film explores the struggles the two friends face as they plead their case on Capital Hill, and travel across the Pacific Ocean in the quest to protect their honeybees from colony collapse disorder.
Since the release of the film, numerous teachers and students have requested a 30-minute educational version of Vanishing of the Bees for classroom use. This Kickstarter project is looking for funding to do just that.
Their first priority is to hire Oscar-nominated editor William Gazecki to bring the film down in length from 87 minutes to 30 minutes. With his expertise, he can tailor the film to play within the time frame of a typical classroom environment. In addition to a shorter version of the film, they will create a comprehensive study guide and additional materials.  The filmmakers aim to create a tool that will be a part of schools for generations to come.
View the trailer below, and check the Kickstarter page to learn more about the project or host a feature length version of the film to spread the world.
Vanishing of the Bees – Trailer from Bee The Change on Vimeo.