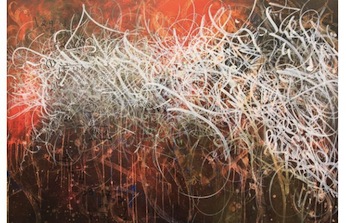 from the interview :
"The title of the show is Walls, Diaries, and Paintings, and it's the first solo show in NY since I did Layered Days in 2008. My work has always been influenced by my earliest days painting on walls, and by my paying attention to walls and what happens to them. In history you can see that walls have always been a part of art, like the cave paintings and hieroglyphics that we grew up studying in school. In the '80s, growing up, I was heavily influenced by and I became a writer through the New York system of subway art. I had my personal transformation experimenting on walls, on trains, and at the same time on canvases, on jackets—a lifestyle blend.
So this show is pretty much about that—it's the walls influencing my work, the idea that these paintings are journals. I want all those elements to culminate in this New York Show because I've been based here about 16 years, and it's going to be the platform to continue the language of my work for shows that are coming up in London, Milan, and Los Angeles.
This is chapter one."
Show opens March 3, 2011
Bryce Wolkowitz Gallery 505 W 24th Street, New York City
and runs through April 16th.