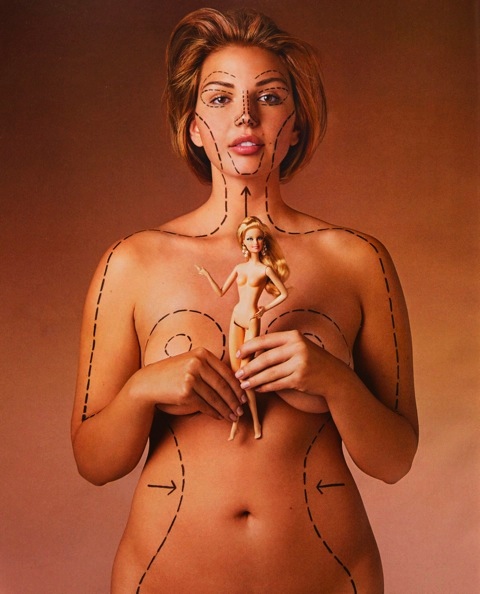 My mom was smart.  She didn't allow Barbie in the house.  At the time, I pouted and wanted one of those round patent leather cases with her traveling wardrobe, and of course, Ken waiting ever-patiently in the car that was way too small for that case to fit in.
So I never really aspired to Barbie's proportions from an up close and personal point of view.  Instead, I saw her out of the corner of my eye, ever present on the cultural horizon as that unattainable blonde doll who makes women cringe with the impossibility of her measurements.
Well much has been written of that impossibility, and now we have Barbie to thank for participating in a great visual demonstration of just that.
According to her blog:
Plus-size model Katie Halchishick, co-founder of Healthy is the New Skinny and the Perfectly Unperfected Project  is featured this month in an article for O Magazine.  Shot by famed photographer Matthew Rolston, Katie stands naked (the first nude in O history), holding an equally bare Barbie doll.   Dotted lines, of the sort that might be made by a cosmetic surgeon (or a photo editor preparing a retouch), cover Katie, indicating what would have to be cut away in order for her to have Barbie's body.
It's a striking photo.  There's something revolutionary about a naked plus-size model.   Think how often this image from French Elle of Tara Lynn has been reblogged – and remember the reaction to this famous Lizzie Miller photo in Glamour?  What sets the O photo apart is the powerful reminder of how far even such a gorgeous model as Katie falls short of an unattainable ideal.
And therein, dear reader, lies the rub and the brilliance of my pre-feminist mother.  None of us should or can attain such a distorted view of the female form.  Making "Healthy is the New Skinny" the mantra she didn't have the words for, but had the sense to inherently know.