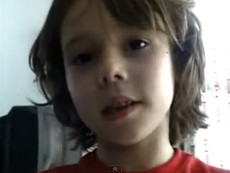 Easy to follow, do it in your living room and don't be afraid…let yourself go!
It's been a day for the record books, an 8.9 earthquake, huge tsunamis, volcanic eruptions and now the threat of nuclear pollution. So in honor of Friday, and some de-stressing goodness, here is a lesson in yoga from someone who really knows his stuff, Shiva, the six-year old yogi, who invented this technique and says:
You can learn in three minutes…and don't be afraid to be silly!
Enjoy your weekend…yum, yum, yum, yummy…namaste!