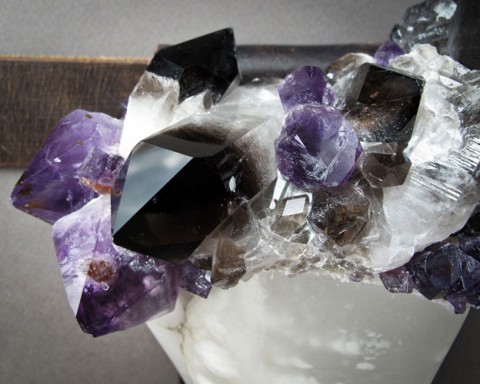 Yesterday I came across Debra Baxter's work on Google+, while checking out Gerrel Saunders.  He showed an image of crystal "brass" knuckles from 2009, which were intriguing.
Exploring Baxter's site, I found her work from 2011 was just as engaging, if not as provocative.
It can be fascinating when an artist's oeuvre is clearly about the medium they choose to work with, or not.  In Baxter's case, interesting?  Absolutely.
The challenge becomes, how to use the materials in new and unthought of ways that encourage a new viewing of the medium.
As a jewelry designer, Baxter also has a unique touch.  Her sculptural works ask us to consider the surfaces and edges of hard substances that seduce us with their qualities of light, texture and solid mass, while carrying lots of cultural baggage.  She treads the territory without falling into the woo woo land of fairies and magic wands, by keeping us on our toes with presentation and distance.  After all, one might tend to disarm the room, let alone chakras, with this piece on.