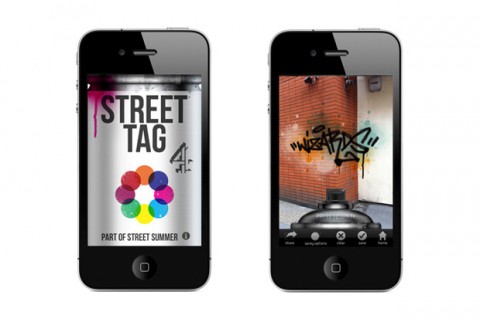 Definition – Tag: a personal signature, usually vandalism with spraypaint, but can be any graffiti.
Have you ever wanted to tag something?   You know, go out with a spray can and create on a wall or building…but the vandalism part of it gets the better of you?
As part of their Street Summer series, Britain's Channel 4 has come up with a way to empower the tagger in all of us…while avoiding the vandalism.  Street Tag is a form of augmented reality in a can.
These days, street art plays to a generally broad audience, well beyond urban centers with plenty of street players, taggers and graf artists.
We certainly love street art here at mixingreality.  So we tried it out…it's no Banksy…but with some practice, perhaps there is a tagger in the making.
Do be sure to check out Street Summer series on Britain's Channel 4 site.  They have a myriad of great programs, videos and art from the UK's street scene.