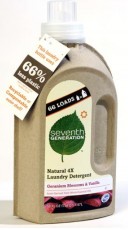 When Jeffrey Hollender was fired from Seventh Generation in November, 2010, after two decades taking his company to a $150 million dollar game changer, I was incredibly pessimistic.  Hollender, is a staunch defender of the planet, at the same time, a staunchly, outspoken critic of consumerism and our broken systems.  Surely, the company might perhaps tow the status quo, but certainly fail to innovate on a scale that Hollender envisioned.  Well Seventh Generation has taken a bold step,and a decent one.
On Friday, Seventh Generation will announce plans to roll out a laundry detergent bottle made from 100% recycled cardboard and newspaper.
"If this kind of creativity was applied to all products at the grocery store, it would be a huge win for the environment," says Gwen Ruta of the Environmental Defense Fund.
The bottle still has a plastic cap, but boasts 66% less plastic than conventional laundry bottles, and can be ripped in half, and recycled with newspapers. There is a plastic bag inside which can be recycled many places, as well.
Perhaps, another game changer…P&G are you listening?
update 3.11.11 :
Take a look at the iPhone inspiration of Seventh Generation's new packaging created by Julie Corbett of Ecologic Brands.

As we wait for more news on Hollender himself, take a look at this video that Fast Company posted after his dismissal, and see for yourself the kind of activist heart that beats within this innovator.