I always love stumbling across independent artists, those who love what they do, collaborate with other likeminded souls and make it happen.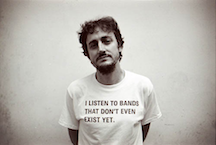 Chryde Abric, is an example of this, founder and artistic producer of La Blogothèque he got his start as a traditional journalist in Paris before launching the revolutionary music website la Blogothèque. He wanted to find another way to share and film music. Chryde offered Vincent Moon (real name Mathieu Saura), an independent filmmaker from Paris, to film musicians in Paris. The so-called Take-Away (or the French title Les Concerts à Emporter) began in April 2006.
The sessions are usually two or three tracks filmed and improvised in an unusual environment.  They often have a rough and ready, demo-like feel, somewhere between a live performance and a finished music video. These live, unusually staged performances differ from traditional music videos in favor of single-take, organic and primarily acoustic sessions.
Every week, La Blogothèque invites an artist or band to play in the streets, in a bar, a park, a flat or in an elevator, and they film the whole session for their Take-Away concert. "Of course, what makes the beauty of it is all the little incidents, hesitations, and crazy stuff happening unexpectingly. Besides, we do not edit the videos so they look perfectly flawless, instead we keep the raw sound of the surroundings. Our goal is to try and capture instants, film the music just like it happens, without preparation, without tricks. Spontaneity is the keyword".
This week, the band, Local Natives from California were invited to perform in Paris. They performed in the extended passage Vivienne, near the Palais Royal, a rewritten version of "Who Knows, Who Cares."
In addition , for the first time, La Blogothèque has become involved with a non-profit organization called Invisible Children. They set out to make a documentary film combining the power of the Invisible Children's story with the influence of three innovative musical groups, Polyphonic Spree, Yeasayer and Lykke Li.
Originally slated for September 2010, delays have resulted from recent terrorist attacks, so production has been delayed until 2011.